Set in a dystopian world of nothing, George Orwell's finest tale – about the lives of animals who escape from man's rule only to be ruled eventually by their own kind –will set you on a journey into the cruel and gripping world of injustice, bullying, lies and deceit!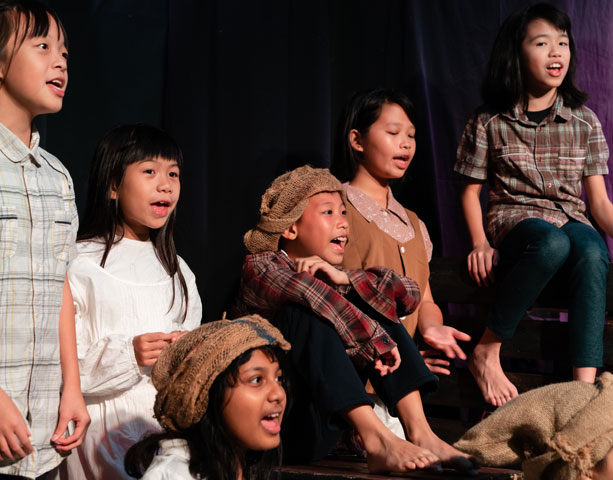 Best for age 7 & older
Animal Farm
The inaugural production by SPUR
Join 19 of our young artistes, aged 7 to 17 years, as they retell this classic fairy story through a combination of text, song, choral voices, dramatisation and physical theatre. Experience it through their eyes as you feel the plight of the animals, admire the strength of the true heroes, despise the brutality of the villains and reflect on this complicated world that we live in.
Book now
SPUR is a performance based programme initiated to foster ACT 3 Drama Academy students into a new stage of their Drama development. It aims to provide these young performers with more exposure to challenging stage performance work and through that cultivate personal confidence, deepen awareness and grow their interest in Theatre and the Arts.

Discounts
Call ACT 3 International at 6735 9986 for booking.
| | |
| --- | --- |
| 20% | for students of SPUR and current students of ACT 3 Drama Academy |
| 15% | for PAssion Card Members |
| 10% | for 2 or more tickets |
NOTES
• Running time: 45 minutes
• Free seating
• Doors open 10 minutes before show time.
• Best for age 7 and older, children have to be accompanied by an adult.
• Child age 2 and older or adult must have a ticket to enter.
• Babies in arms will not be admitted.
Ticket Price
$15
Date and Time
20 Nov 2018, Tuesday 7:30pm
Venue
Drama Centre Black Box
National Library Building, Level 5
100 Victoria Street
Singapore 188064
HOW TO BOOK
Online:
Credit card payment only
By phone:
Call ACT 3 International at 6735 9986.
Credit card payment only
At the door:
Available at venue an hour before start time, at full price.
Subject to availability, cash payment only.