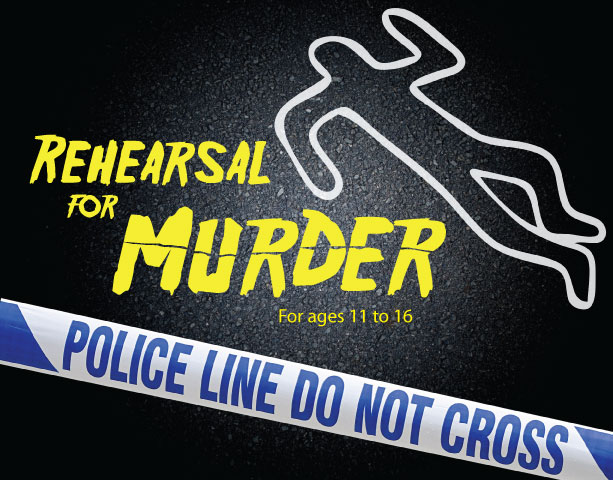 For ages 11 to 16
Rehearsal for Murder
by Andrew Hull
During a rehearsal of William Shakespeare's Twelfth Night, a cast member is murdered. With the help of the audience's (that means you) detective work through simple clues and interrogation, everyone has to solve the mystery of the "whodunnit"!
In this performative experience, older children will be provided with many opportunities to think creatively, work imaginatively and collaborate together using a mix of text and movement. Through the application of newly-learnt Drama techniques, these young actors will build determination and learn the many ways of engaging an audience as they work hard preparing and shaping the piece to ultimately showcase it in a live production on the final day.
Book now
Discounts
Call ACT 3 Drama Academy at 6735 9986 for registration.
15%
- For students currently with ACT 3 Drama Academy
- Have registered for Mid Year Theatre Fun 2017
- Have attended SWEET! in 2016
10%
if you register 2 children or more
Only 1 discount applies and discounts cannot be used concurrently
Workshop Fee
$380
Registration
Book online, in person
or call us at +65 67359986
Venue
ACT 3 Drama Academy
126 Cairnhill Road
ONE-TWO-SIX Cairnhill Arts Centre
S(229707)
Workshop Dates
Workshop Time
Presentation Date
Presentation Time
29 May - 2 June
(Mon to Fri)
2:00pm - 5:00pm
Saturday, 3 June
2:30pm - 3:30pm
5 to 9 June
(Mon to Fri)
9:30pm - 12:30pm
Saturday, 10 June
2:30pm - 3:30pm
12 to 16 June
(Mon to Fri)
2:00pm - 5:00pm
Saturday, 17 June
2:30pm - 3:30pm
19 to 23 June
(Mon to Fri)
9:30am - 12:30pm
Saturday, 24 June
2:30pm - 3:30pm
24 - 28 July
(Mon to Fri)
2:00pm - 5:00pm
Friday, 28 July
6:00pm - 7:00pm
31 July - 4 August
(Mon to Fri)
*9:30am - 12:30pm
(Mon to Thu)
9:00am - 12:00pm (Fri)
Friday, 4 August
12:30pm - 1:30pm