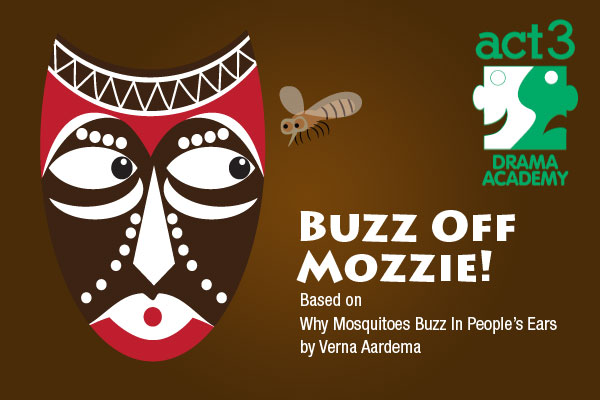 For ages 5 to 7
Buzz Off Mozzie!
2 June to 31 July 2015
In this cumulative tale based on an African legend, your child will learn the topic of cause and effect in a humorous manner.
When a mosquito tells a lie to a lizard, it causes a huge panic amongst all the animals. Eventually, something bad happens and the blame is put upon the mosquito.
In this week-long workshop, your child will have a blast role playing the different animals, asking questions and finding out the true answer to why mosquitoes buzz in people's ears!
Book now
| Workshop Dates | Workshop Time | Presentation Date | Presentation Time |
| --- | --- | --- | --- |
| 2 - 6 Jun | 9:30am – 11:30am | 7 June, Sun | 11:30am - 12:30pm |
| 8 - 12 Jun | 9:30am – 11:30am | 13 June, Sat | 11:30am - 12:30pm |
| 8 - 12 Jun | 3:00pm - 5:00pm | 13 June, Sat | 5:30pm - 6:30pm |
| 15 - 19 Jun | 9:30am – 11:30am | 20 June, Sat | 11:30am - 12:30pm |
| 15 - 19 Jun | 3:00pm - 5:00pm | 20 June, Sat | 5:30pm - 6:30pm |
| 22 - 26 Jun | 9:30am – 11:30am | 27 June, Sat | 11:30am - 12:30pm |
| 22 - 26 Jun | 3:00pm - 5:00pm | 27 June, Sat | 5:30pm - 6:30pm |
| 20 - 24 Jul | 9:30am – 11:30am | 25 July, Sat | 11:30am - 12:30pm |
| 27 - 31 Jul | 9:30am – 11:30am | 1August, Sat | 11:30am - 12:30pm |
Workshop Fee
$300
Registration
Book online, in person
or call us at +65 67359986
Venue
ACT 3 Drama Academy
126 Cairnhill Road
ONE-TWO-SIX Cairnhill Arts Centre
Discounts
| | |
| --- | --- |
| 20% | Early Bird Special till 4 May, 2015 |
| 15% | for students currently with ACT 3 Drama Academy or if you have attended ACT 3 Drama Academy Holiday Workshops in 2014 & 2015 |
| 10% | if you are an OCBC Child Development Account (CDA) Holder or OCBC Mighty Savers™ member |
| 10% | if you register 2 children or more |