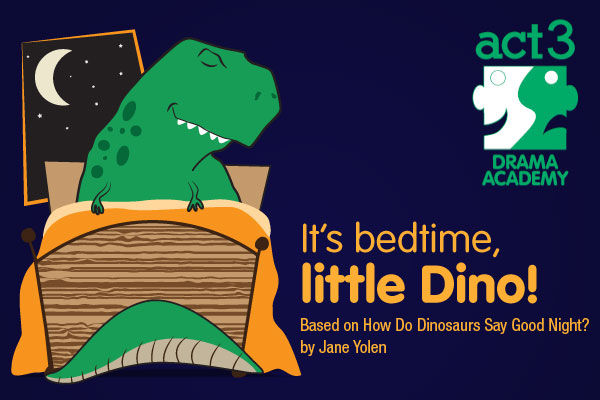 For ages 3 to 4
It's bedtime, little Dino!
2 June to 31 July 2015
A laughable story about how eleven different child dinosaurs try their very best to not go to bed when it's time to!
Coming up with all kinds of antics and reasons, this week-long workshop will focus a lot on the facial and vocal expressions as well as the dramatic actions that the dinosaurs make. Learning tips on characterisation, your child will learn to role play and become one of the many varied personalities depicted in the tale.
Book now
| Workshop Dates | Workshop Time | Presentation Date | Presentation Time |
| --- | --- | --- | --- |
| 2 - 6 Jun | 9:30am – 11:30am | 7 June, Sun | 10:00am - 11:00am |
| 8 - 12 Jun | 9:30am – 11:30am (FULL) | 13 June, Sat | 10:00am - 11:00am |
| 8 - 12 Jun | 3:00pm - 5:00pm | 13 June, Sat | 5:30pm - 6:30pm |
| 15 - 19 Jun | 9:30am – 11:30am (FULL) | 20 June, Sat | 10:00am - 11:00am |
| 15 - 19 Jun | 3:00pm - 5:00pm | 20 June, Sat | 5:30pm - 6:30pm |
| 22 - 26 Jun | 9:30am – 11:30am (FULL) | 27 June, Sat | 10:00am - 11:00am |
| 22 - 26 Jun | 3:00pm - 5:00pm | 27 June, Sat | 5:30pm - 6:30pm |
| 20 - 24 Jul | 9:30am – 11:30am | 25 July, Sat | 10:00am - 11:00am |
| 27 - 31 Jul | 9:30am – 11:30am | 1August, Sat | 10:00am - 11:00am |
Workshop Fee
$300
Registration
Book online, in person
or call us at +65 67359986
Venue
ACT 3 Drama Academy
126 Cairnhill Road
ONE-TWO-SIX Cairnhill Arts Centre
Singapore 229707
Discounts
| | |
| --- | --- |
| 20% | Early Bird Special till 4 May, 2015 |
| 15% | for students currently with ACT 3 Drama Academy or if you have attended ACT 3 Drama Academy Holiday Workshops in 2014 & 2015 |
| 10% | if you are an OCBC Child Development Account (CDA) Holder or OCBC Mighty Savers™ member |
| 10% | if you register 2 children or more |