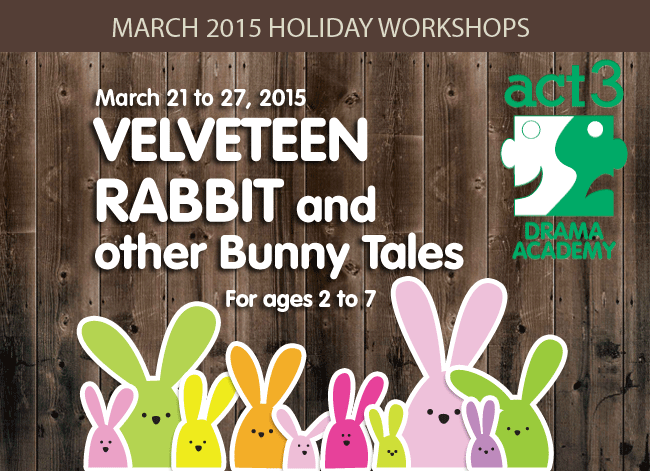 Hop right into our week-long holiday workshops and get a chance to snuggle up to fuzzy, furry and funny bunny stories.

Featuring three wonderful tales, your little one will pick up basic drama techniques on how to tell a story with imagination and creativity.When the week is over, see up close what the power of drama can do for your child in building confidence and improving literacy in a special intimate showcase for family and friends.


Have an imaginative time with a naughty little bunny who tries to play verbal hide and seek with mummy, imagining himself to be a child, a bird and so on.

With plenty of opportunities for action and movement, your child will enjoy this tale as mummy rabbit manages to always outsmart baby bunny by finding him in the end.



*

EXTRA dates




In this amusing relatable story, your child will go on a first ever, exciting trip to a laundromat together with a little toddler who accidentally leaves her favourite toy bunny behind in one of the washing machines!

Unable to speak, she tries her best to tell mummy and daddy about it by crying. Will she ever get her soapy toy back?





Come meet a toy rabbit who yearns to be a real animal. In his quest to become one, he goes on a roller-coaster ride of ups and downs and befriends a fairy who grants him his wish.

In this heartwarming tale about love and longing, your child will learn about self-discovery through the eyes of the velveteen rabbit.



For age 2 with Parent
Workshop Dates

Workshop Time

21 March, Saturday

10:30am - 12:00pm

*26 March, Thursday

*29 March, Sunday

*1 April, Wednesday

*5 April, Sunday
For ages 3 to 4, 5 to 7
Workshop
Dates
Workshop
Times
Presentation
Date
Presentation
Time
(Ages 3 to 4)
Presentation
Time
(Ages 5 to 7)
23 - 27 Mar
(Mon - Fri)
9:30am - 11:30am


28 Mar, Sat

10:00am

11:30am
Workshop Fee
$60 for parent and child
$300 for ages 3 to 7

Registration
Book online with credit card


Discounts

20%
Early Bird Special
till 9 February, 2015
15%
for students currently with
ACT 3 Drama Academy or if you have attended ACT 3 Drama Academy Holiday Workshops in 2014
10%
if you are an OCBC Child Development Account (CDA) Holder or OCBC Mighty Savers™ member
10%
if you register 2 children or more

Venue (map)
ACT 3 Drama Academy
126 Cairnhill Road
ONE-TWO-SIX Cairnhill Arts Centre

Nearest MRT Station
NEWTON (7 minutes away)

Nearest parking
Cairnhill Arts Centre car park
(via Cairnhill Rise)
Anthony Road car park
(5 minutes away)

Nearest pit stops
Paragon Shopping Mall/
Newton Hawker Centre
(7 & 10 minutes away)




For more information call ACT 3 International at 6735 9986
www.act3international.com.sg