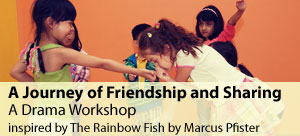 Go on a journey with a beautiful, proud Rainbow Fish who doesn't like being friendly with the other fish in the sea.

After he tells a little blue fish off for disturbing him, he gets ignored by the rest. Lonely with no admirers, he meets an octopus who teaches him the value of friendship through sharing.

Based on the book of the same name by author and illustrator Marcus Pfister, this workshop will encourage your child to be creative, confident and expressive in a caring and safe environment.

Using simple techniques such as movement, characterisation and role-playing, our drama teachers will provide non-stop fun and laughter as they make their way under the sea!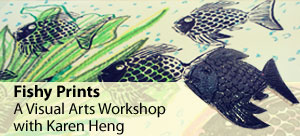 Learn the art of printmaking and create a one-of-a-kind fish print on paper!

Inspired by a traditional Japanese method of printing with actual fish scales and turning it into a work of art, this fun-filled workshop aims to stimulate your child's young, inquisitive mind to facilitate creativity and instill a spirit of learning.

Artist Bio
Karen Heng is a Singaporean printmaking artist who enjoys experimenting and incorporating different techniques and approaches in her work.

She believes that Art, when introduced to children at a young age, will inspire in them creativity, expressiveness and a love for all things artistic.