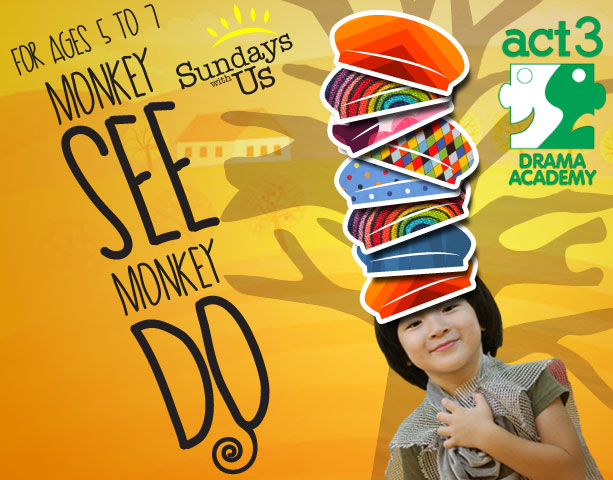 "Children love imitating as it is a form of pretend play where they learn and have fun through mimicry. In Drama and especially in a drama lesson that is catered to both parent and child, when the parent is dramatising, the child models after what his parent is doing. And I believe that this is a powerful tool that not only promotes child development but teaches about values as well."
Ruby Lim-Yang
Artistic Director
ACT 3 International
For ages 5 to 7 with Parent
Monkey See, Monkey Do!
Inspired by
Caps for Sale
by Esphyr Slobodkina
Sunday, April 24, 2016
Spend a Sunday with your child bonding in our unique Drama Workshop inspired by an effortless story that teaches about problem and resolution. Who knows? You just might have a ball of a time mimicking each other by seeing and doing!
A timeless classic written 75 years ago, back in 1940, Caps for Sale is a warm and humorous tale about a band of mischievous and playful monkeys who taunt and disturb a poor, hardworking cap salesman by leaving his caps all over a tree! Having to earn a living, the salesman wants them back but the naughty monkeys simply don't listen. Just who will prevail in this battle of CAPS?
In our unique parent-child Drama Workshop, you and your child will discover simple dramatic tools as you explore and learn to dramatise through sight, movement and voice. With repetitive and simple text that can easily be memorised, the both of you will speak with gusto, act with confidence and maybe even get to throw some caps around!
Book now
Price
$75 for Parent and Child
Registration
Book online with credit card
Discounts
10% if you register 2 children or more
Dates and Times
Sunday, April 24, 2016
10:30am to 12:30pm
Venue
ACT 3 Drama Academy
126 Cairnhill Road
ONE-TWO-SIX Cairnhill Arts Centre
S(229707)