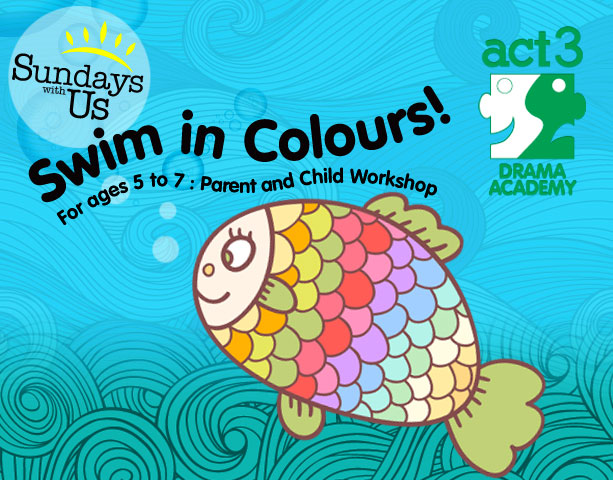 "Children discover and learn in many ways. Sometimes it's through experience, sometimes it's through language and sometimes it's through movement. Drama pushes the boundaries when it comes to discovering and learning and when a parent and child experience it together through movement and language, it makes the learning journey even more worthwhile and enjoyable. So come join us on a Sunday!"
Ruby Lim-Yang
Artistic Director
ACT 3 International
For ages 5 to 7
Parent and Child Workshop
Swim in Colours!
Based on
The Rainbow Fish
by Marcus Pfister
Sunday, August 21 or 28, 2016
Dive deep down into the blue ocean and meet the beautiful Rainbow Fish with scales so colourful that she becomes the main attraction amongst all the other fishes. After losing all her fans because of pride, she goes on a journey of self-learning and discovers the value of friendship by sharing her scales with everyone!
Under the guidance of our nurturing teachers, this parent and child Drama Workshop will ensure quality bonding time spent developing creativity and imagination as well as important language skills.  Together with your child, build confidence and expressiveness as you learn to dramatise the world of the sea.
Book now
Price
$75 for Parent and Child
Registration
Book online with credit card
Discount
10% if you register 2 children or more
Dates and Times
Sunday, August 21 or 28, 2016
10:30am to 12:30pm
Venue
ACT 3 Drama Academy
126 Cairnhill Road
ONE-TWO-SIX Cairnhill Arts Centre
S(229707)