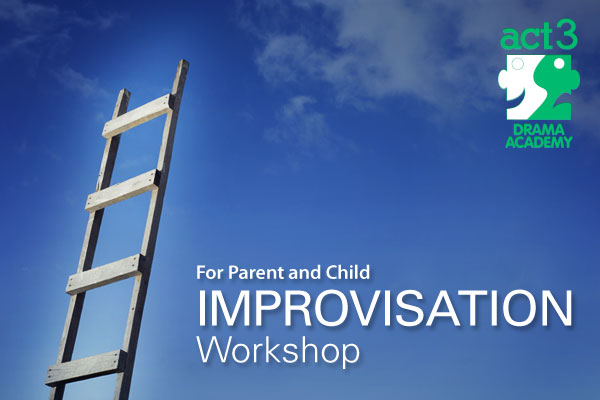 For ages 8 and older
Yes, And…
Improvisation Workshop
For Parent and Child
Sunday, January 24 or 31, 2016
Broaden thinking skills, improve communication techniques, and step up creativity in our first time ever parent-and-child Improvisation Workshop.
Improvisation is all about being in the moment with a focused and present mind. The workshop will build not only self-confidence but it will also create a learning journey for the parent and child to work on key values like trust, responsibility and being open to ideas.
The technique of "Yes, And…" and other Improvisation techniques will be used in a space of positivity, encouragement, and possibilities. The Drama teacher facilitates the workshop in a safe environment where possibilities are endless.
Say "YES" and, the rest will follow!
Best for parents of children aged 8 and older.
REGISTER TODAY!
Book now
Price
$110 for Parent and Child
Registration
Book online with credit card
Discounts

10% if you register 2 children or more
Date and Time
Sunday
January 31, 2016
10:30am to 12:30pm
Venue
ACT 3 Drama Academy
126 Cairnhill Road
ONE-TWO-SIX Cairnhill Arts Centre
S(229707)