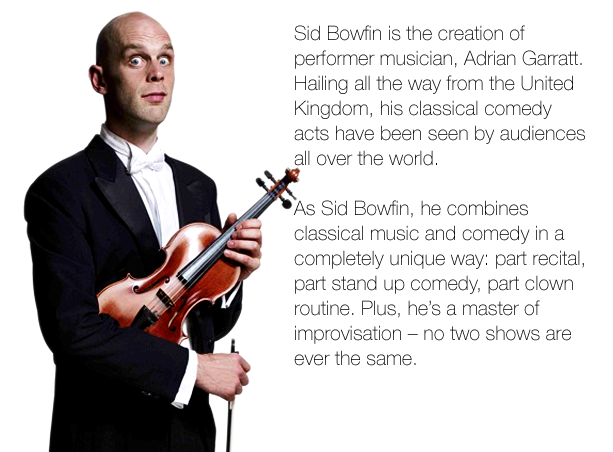 "With a mix of music, comedy and with some clowning thrown in, this is a performance that will sure to entertain the whole family. Whether you're learning how string instruments work, listening to the classics for the very first time or laughing your sides out silly, there is one thing in common – Sid will definitely whisk you on a mad journey of musical wonder!"
Ruby Lim-Yang
Artistic Director
ACT 3 International
February 25 to March 12, 2017
Crazy Classics with Sid Bowfin
An Interactive Classical Music Performance
For ages 4 years and above
Come meet Sid Bowfin, a very talented and comical musician, as he brings you on a crazy rollercoaster ride of laughter, music and great fun! With his zany antics and effortless way of playing the violin and interacting with his audience at the same time, you and your child will enjoy every moment of this classical music performance.
Sharing his love for the great classics, Sid will play famous tunes from composers such as Mozart, Vivaldi, Rossini and Pachelbel as well as surprise you with some very unexpected pop hits. And hey, if you and your child enjoy listening to what Sid is playing, he might even pick YOU to help him spread his joy!
So prepare yourself for the musical treat of your life!
Book now
BOX OFFICE OPENS NOVEMBER 23, 2016
Performance Times
Feb 25 (Sat)
10.30am, 2.30pm
Feb 26 (Sun)
10.30am, 2.30pm
Feb 27 (Mon)
10:45am
Feb 28 (Tue)
9:00am
Mar 1 (Wed)
9:45am
Mar 2 (Thu)
10:45am
Mar 3 (Fri)
10:30am
Mar 4 (Sat)
10.30am, 2.30pm
Mar 5 (Sun)
10.30am, 2.30pm
Mar 6 (Mon)
10:30am
Mar 7 (Tue)
9:00am
Mar 8 (Wed)
9:00am
Mar 9 (Thu) - FULL
9:00am
Mar 10 (Fri)
9:00am
Mar 11 (Sat)
10.30am, 2.30pm
Mar 12 (Sun)
10.30am, 2.30pm
HOW TO BOOK
By internet:
www.sistic.com.sg
Credit Card payment only
By phone:
SISTIC Hotline: 6348 5555
Credit Card payment only
In Person:
At authorised SISTIC agents
At the door:
Available at venue an hour before start time, at full price.
Cash payment only.

TERMS AND CONDITIONS
Child aged 1 year old and older or adult must have a ticket to enter.
Children younger than 1 year old will not be admitted.
Children must be accompanied by an adult at all times.
VENUE
Drama Centre Black Box
100 Victoria Street, Level 5
National Library Building
Singapore 188064

TICKET PRICES
(All prices exclude SISTIC and handling fees)
Weekdays

$28 for child or adult
Weekends

$38 for child or adult

DISCOUNTS


EARLY BIRD SPECIAL 20% OFF ENDS DECEMBER 5, 2016
From December 6, 2016:

$129
For Weekend Performances, 4 tickets in the same transaction to same show and same time
15%
Current ACT 3 Drama Academy students
Call ACT 3 International 6735 9986 or in person at ACT 3 Drama Academy
10%
OCBC Child Development Account (CDA) Holders and Mighty Savers members
10%
Mastercard Holders via SISTIC Channels
SCHOOL GROUP DISCOUNTS
For school group bookings, please email act3int@act3international.com.sg or call ACT 3 International at 6735 9986.