Fee Fi Fo Fum! It's a giant of a show, we'd love you to come!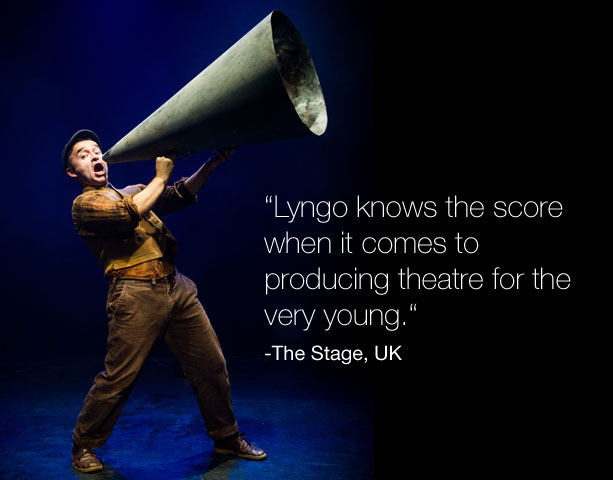 "When it comes to producing high calibre children's theatre for the very young, Lyngo Theatre is at the forefront of it all. With a strong focus on invigorating the five senses through play and interactivity, Jack and The Beanstalk will thrill and excite in a gargantuan and exploratory way."
Ruby Lim-Yang
Artistic Director
ACT 3 International
For ages 3 to 8
Jack and the Beanstalk
September 6 to 18, 2016
This classic fairytale now gets the Lyngo treatment so expect lots of surprises, a gripping story and beautiful images as Jack sells his cow for 5 magic beans and finds himself in the land above the clouds. It's a show for the over 3's (and their giants) with something for everyone – enormous shoes, tiny houses, showers of silver and gold and a big, leafy explosion!
LYNGO is a UK based Children's Theatre company with strong Italian design influence. Their shows have delighted children and adults for over 10 years with their unique mix of fun and beautiful imagery working magically together to reveal the vivid poetic realm that is at the heart of their work.
Their trademark is a unique combination of the  inventive use of beautifully designed and handmade props 'theatre toys' with a genuine approach to play and interact with their audience.
Performance Times
Sept 6 (Tue)
10:00am
Sept 7 (Wed)
10:00am
Sept 8 (Thu)
10:00am
Sept 9 (Fri)
10:00am
Sept 10 (Sat)
*10:30am, *2:30pm
Sept 11 (Sun)
*10:30am, *2:30pm
Sept 12 (Mon) Public Holiday


*10:30am, *2:30pm
Sept 13 (Tue)
10:00am
Sept 14 (Wed)
10:00am
Sept 15 (Thu)
10:00am
Sept 16 (Fri) Sold Out
10:00am
Sept 17 (Sat) Sold Out
*10:30am, *2:30pm
Sept 18 (Sun) Sold Out
*10:30am, *2:30pm
*Backstage Tour is for a duration of 30 mins, maximum of 12 pax.
HOW TO BOOK
By internet:
www.sistic.com.sg
Credit Card payment only
By phone:
SISTIC Hotline: 6348 5555
Credit Card payment only
In Person:
At authorised SISTIC agents
At the door:
Available at venue an hour before start time, at full price.
Cash payment only.

TERMS AND CONDITIONS
Child aged 1 year old and older or adult must have a ticket to enter.
Children younger than 1 year old will not be admitted.
Children must be accompanied by an adult at all times.
VENUE
Drama Centre Black Box
100 Victoria Street, Level 5
National Library Building
Singapore 188064

TICKET PRICES
(All prices exclude SISTIC and handling fees)
Weekdays

$28 for child or adult
Weekends (including Monday, September 12)

$38 for child or adult
*$46 for child or adult with Backstage Tour

DISCOUNTS


EARLY BIRD SPECIAL 20% OFF ENDS JUNE 30, 2016
From July 1, 2016:

$129
For Weekend Performances, 4 tickets in the same transaction to same show and same time
15%
Current ACT 3 Drama Academy students
Call ACT 3 International 6735 9986 or in person at ACT 3 Drama Academy
10%
OCBC Child Development Account (CDA) Holders and Mighty Savers members
10%
Mastercard Holders via SISTIC Channels
SCHOOL GROUP DISCOUNTS
For school group bookings, please email act3int@act3international.com.sg or call ACT 3 International at 6735 9986.