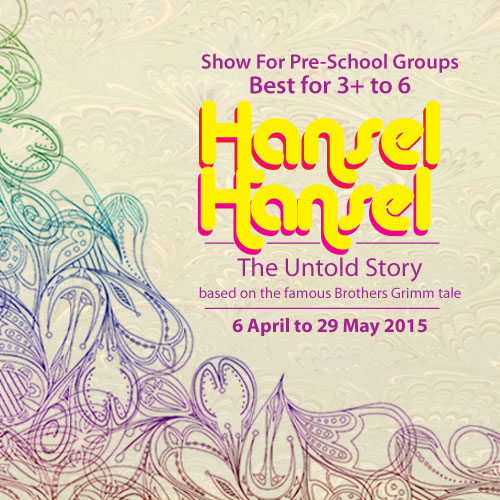 For ages 3+ to 6
Hansel Hansel
6 April to 29 May 2015
A vegetarian teddy bear? A song for soup and bread? And twins who don't even look alike? What's next in this twisted madness based on the famous tale, Hansel and Gretel?
In this outrageous version completely turned on its head, join big bully Gretel and crybaby Hansel as they take you on a wild journey up, down, round and through the forest right smack into a sticky scenario with a lonely eccentric soup drinker!
So what are you waiting for? Book tickets for your students now for 50 minutes of pure hilarity, campiness and juicy berries!
Dates
School Term 2
6 April to 29 May 2015
Time
10am
Ages
3+ to 6
Group Size
Maximum 120 children
Free entry to teachers at 1 teacher to 10 children
Duration
50 minutes
Price
$16 per child/adult
Discounts
10% off for 60 children and above
To book
Email us
or call us at +65 67359986
Venue
ACT 3 Theatre
126 Cairnhill Road
ONE-TWO-SIX Cairnhill Arts Centre