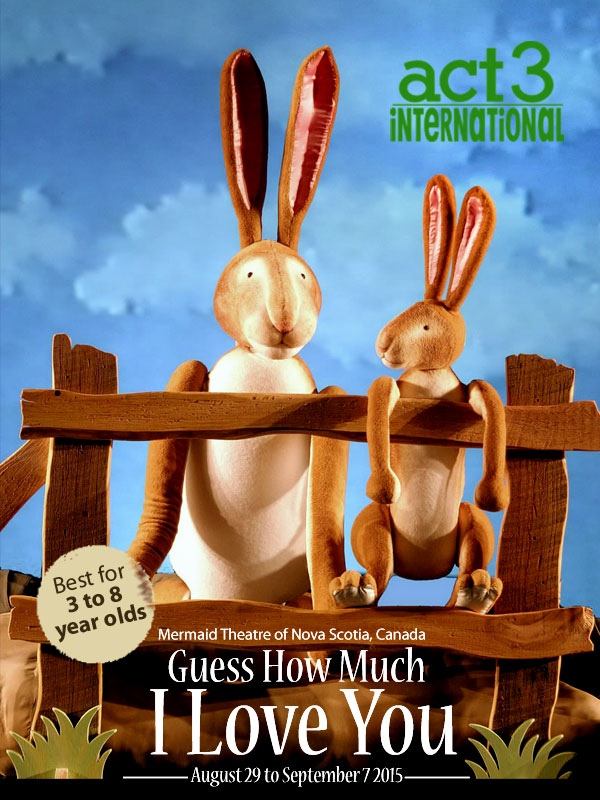 For ages …
Guess How Much I Love You
29 August to 7 September 2015
"Guess how much I love you?" asks Little Nutbrown Hare when it's just about time for bed.
A simple question, and yet it causes a chain reaction where the charming little fellow goes on an all-out declaration of his love for Big Nutbrown Hare.
Stretching his arms as wide as he can reach and hopping as high as he can go, he demonstrates his never-ending affection for the latter. However, Big Nutbrown Hare one-ups the ante each time with his Big, huge and expansive love!
Adapted from the award winning classic Guess How Much I Love You written by Sam McBratney and illustrated by Anita Jeram, this charming and feel-good tale will definitely touch hearts. So come join us and be transported into an amusing world of Nutbrown Hares where apparently, love can be measured through a game!
Book now
| Activity | Date | Day | Time |
| --- | --- | --- | --- |
| Performance | August 29 2015 | Saturday | 10:30am; 4:00pm |
| | August 30 2015 | Sunday | 10:30am; 4:00pm |
| | August 31 2015 | Monday | 10:00am; 2:00pm |
| | September 1 2015 | Tuesday | 10:00am |
| | September 2 2015 | Wednesday | 10:00am |
| | September 3 2015 | Thursday | 10:00am |
| | September 4 2015 | Friday | Restday |
| | September 5 2015 | Saturday | 10:30am; 4:00pm |
| | September 6 2015 | Sunday | 10:30am; 4:00pm |
Ticket Price:
Category 1
Weekdays $28 for Child or Adult
Weekends $35 for Child or Adult
Category 2
Weekdays $25 for Child or Adult
Weekends $32 for Child or Adult
Category 3
Weekdays $18 for Child or Adult
Weekends $25 for Child or Adult
Venue
ACT 3 Drama Academy
126 Cairnhill Road
ONE-TWO-SIX Cairnhill Arts Centre
Discounts:
20% early bird discount till July 7 2015 for Public
20% early bird discount till July 20 2015 for Schools
From July 7 2015
Weekend Category 1
$119 Family Pack for 4 tickets to same show, same time
Weekend Category 2
$109 Family Pack for 4 tickets to same show, same time
15% for ACT 3 Drama Academy students
10% for OCBC Child Development Account (CDA) Holders and Mighty Savers members