In the lush green background of Fort Canning Park, come explore the theme of sustainability through the wonderful art of creative drama in this 3- hour workshop.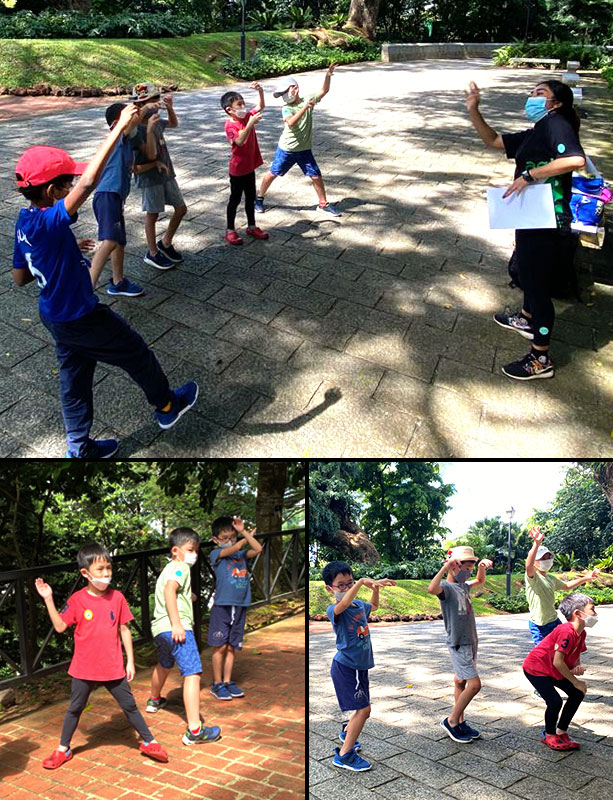 | | |
| --- | --- |
| 10% | For students currently with ACT 3 Drama Academy or have attended ACT 3 Drama Academy classes, ACT 3 Drama Academy Holiday Workshops or Children's Day Workshops in 2020 & 2021. |
| 10% | If you register for any 2 or more June Holiday Onsite Programmes |
| 10% | If you register 2 children or more |
We invite your child to take a walk in the park with us and meet The Great Kapok Tree, discover ways we can take care of nature and how we can continue to protect her by participating in an array of dramatic games and storytelling activities.
Together with an experienced Drama Teacher, your child will:
– Demonstrate their confidence to use movement, expression and voice to convey their thoughts and ideas
– Develop their social skills, teamwork and collaboration while working together with their peers
– Learn about the story of The Great Kapok Tree
– Share ways that they can care for the environment
– Experience and take in the nature in the park
Age group
7 to 11 years
Workshop Fee
$100
Registration
Book online or
call us at +65 67359986
Venue
Fort Canning Park
Wet Weather Plan
If it rains, the workshop will be held in the park's sheltered spaces.
| Workshop Date | Workshop Time |
| --- | --- |
| 2 Jun (Thu) | 3:30pm to 6:30pm |
| 4 Jun (Sat) | 9:00am to 12:00pm |
| 10 Jun (Fri) | 3:30pm to 6:30pm |
| 12 Jun (Sun) | 9:00am to 12:00pm |
| 16 Jun (Thu) | 3:30pm to 6:30pm |
| 18 Jun (Sat) | 9:00am to 12:00pm |
| 24 Jun (Fri) | 3:30pm to 6:30pm |
| 26 Jun (Sun) | 9:00am to 12:00pm |
Register Now