Welcome the Arts right into your school with a variety of high-quality international online programmes and performances! Through Theatre, Music, Puppetry and Dance, nurture your students with creative experiences that will engage, excite and educate.
For Primary 1 to 6
30 minutes
Graffitti Classics
16 strings, 8 dancing feet and 4 voices with 1 aim: to make classical music wickedly funny and fantastically exhilarating for audiences everywhere! Graffiti Classics bursts the elitist boundaries of the traditional String Quartet with its hilarious all-singing, all-dancing musical comedy show.
Proud of its excellent education outreach, which presents the cheeky joy of classical music to students world-wide, Graffiti Classics has toured schools and International Children's Festivals throughout the UK, Ireland, Spain, Singapore, Malaysia, Vietnam and Norway.
Graffiti Classics greatest hope is to inspire the Paganinis and Beethovens of the future!
For Primary 1 to 6
40 minutes
Funny Puppetry
A puppetry performance that is a tribute to the ancient art of puppetry and its greatest creators. This is a fascinating nonverbal one man show that continuously displays original body puppets, shadowgraphy and music.
It features magical dazzling stars of fabric, cardboard and colourful feathers. The vignettes in the performance will bring the viewer to laughter and surprises showcasing the eternal miracle of theatre.
Performed by Omar Alvarez of Omar Alverez Titeres Puppetry Arts Company from Argentina. Watch the master puppeteer, Omar Alvarez, manipulate various puppets to life and following each puppet's journey.
For Primary 1 to 6
40 minutes
Tic Toc, The Hero of Time
In this non verbal performance, solo puppeteer Omar Alvarez combines delicate puppets built from the recycling of everyday objects with multimedia resources and stop-motion projections created especially for this work, proposing a romantic and fun adventure, metaphor of the current world.
Tic Toc is an antique alarm clock that treasures the wisdom of happy moments.  Suddenly it is threatened by a modern wi-fi phone.  Behind its innocent efficient appearance, it conceals a voracious intention to take over the world, becoming capable of anything to achieve its conquest.
Tic Toc, The Hero of Time shows the sensitive and free spirit of the human being in permanent struggle against the system.  This work is beautiful and poetic.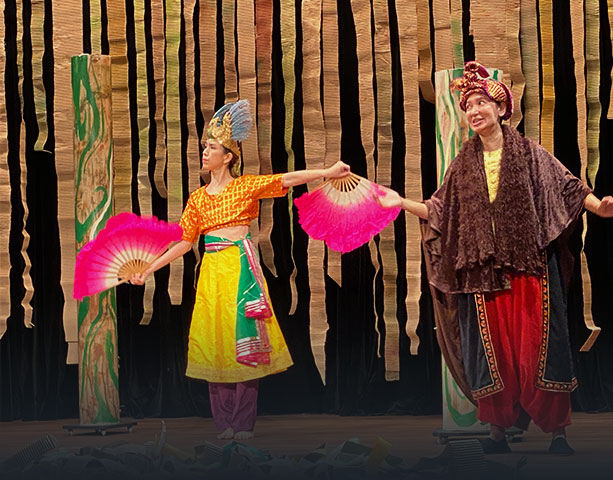 For Primary 1 to 3
25 minutes
The Caged Parrot
Combining a mix of art forms – storytelling, dramatisation, dance, song, and colourful costumes – this is performance by ACT 3 International.  The Caged Parrot is a Persian folk tale about a merchant who traps a wild parrot and keeps her in a beautiful cage in his big house. Thinking that she will be happy living there, he offers her good food and treats her well. One day, she requests that he passes a message to her parrot brothers and sisters deep in the forest. After going through a long and tiring journey, and meeting different birds along the way, the merchant realises that even though the parrot is happy, all she wants is to fly freely in the wild as herself – a wild parrot.  The themes for this performance are responsibility and empathy.